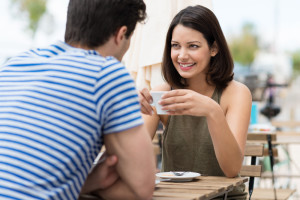 You may think of lifestyle photography as the at-home family photos or atmospheric wedding photos you cherish. But there is more to lifestyle photography: It also serves an important role in business to personalize your brand, connect with customers, and enhance your business materials. Lifestyle photography is photography that captures people in natural and relaxed real-life environments. These photos add a human connection and context to your professional business imagery. Product photos are not enough to gain the trust and business of your customers. 
Balance to Your Business Imagery
Lifestyle images bring balance to your business website, advertisements, and communication materials, because they add real-life imagery that counterbalances stiff product photography. You don't want your business materials to be too heavy with lifeless product photos. It gives the impression that your brand is all business, no human consideration. Without lifestyle photos to add context and approachable human emotion to the business, your website and materials with appear lifeless and dull. A balance of lifestyle and product images make your visuals more compelling.
Connects to Your Customers
Good product photography is important to customers and valuable to your business: It pointedly shows the customer what they are getting and illustrates the product features. But customers need more emotion and connection to make a confident buying decision, and that's where lifestyle photography comes into play. Lifestyle images show real-life situations with regular people that customers identify with and relate to. These photos help customers envision themselves using the product or service, so they feel connected personally to the business. Lifestyle photos are a personal, human touch.
Why Not Use Stock Images?
Don't settle for stock images. Stock images are generic for a reason, and mass appeal doesn't benefit your business initiatives. Custom creative design photography is tailored to your business' vision, goals and market. You can illustrate product use or context in a way that is impossible with stock images. Your personalized messaging and mission should be executed throughout all your business materials, including photography.
About Your Dallas Professional Photographer:
Doug Davis has been producing professional, engaging videos and product, food, and lifestyle photography from his Dallas photography studio for over 20 years. We'd love to discuss how video can play a vital role in your dynamic marketing strategy. D-Squared Studios is located at 4312 Elm Street, Dallas, Texas 75226. Contact our office at (214) 746-6336 or doug.davis@d2studios.net to schedule a consultation.