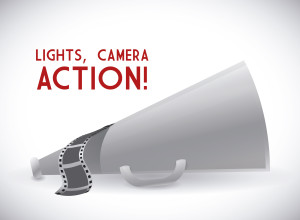 A photographer often wears many hats especially if they own their own business. Their role can run from taking the pictures to making decisions regarding lighting, sound, and electrical, or they may act as the director, making the final decisions about all aspects of the video or photo shoot. A director has to have artistic vision, be creative, and think outside the box because there are many decisions to be made before they call lights, camera, action!
What the Director Does and What Skills They Need to Do It
The role of a director is to create the look, feel, and visual identity of a photograph, film, or video, and if they are taking photographs they work with the subjects of the photo, too. Therefore, they manage all aspects of the project from choosing the location, the equipment, the positions of the equipment, the lenses, film, props, poses, etc.  They collaborate with set designers, costumers, makeup artists, and the subjects themselves in the case of still photos. In order to do this, the director needs to:
Be knowledgeable about lighting techniques and camera equipment
Be flexible and adaptable
Be diplomatic and tactful
Be able to work with people
Communicate clearly
Possess good vision
Possess an understanding of color and composition
Be able to improvise
Make quick decisions
Be attentive to detail
The director, then, is responsible for all artistic and technical decisions that go into a video, film, or photo shoot.
Color, Space and Creativity
If you're looking for a professional commercial photographer or videographer to help bring your vision to life, visit D2 studios to get a look at Doug Davis's skills with color, space, and creativity.  Each room is designed as a vision of photography and demonstrates Doug's skills firsthand.
ABOUT YOUR DALLAS, TX, PROFESSIONAL PHOTOGRAPHER:
Doug Davis has been producing professional, engaging videos and product, food, and lifestyle photography from his Dallas, TX, studio for more than 20 years. D-Squared Studios is located at 4312 Elm Street, Dallas, Texas, 75226. Contact our office at (214) 746-6336 or email Doug at doug.davis@d2studios.net.