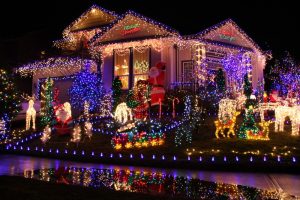 Like the song goes, for some people Christmas is the most wonderful time of the year. It certainly can be pretty and festive with all the Christmas lights and decorated trees both indoors and outdoors. We here at D-Squared Studios would like to share a few tips for capturing Christmas lights this holiday season.
A Few Tips For You
When it comes to capturing the beautiful, colorful, twinkling Christmas lights this season here are a few tips that might help.
Camera Mode: When shooting outdoor Christmas lights, Use Manual (M) mode. This allows you to take charge.
The Lens: A wide angle lens is a must when it comes to capturing homes and expansive scenes, but always carry a longer lens or a macro lens in case you decide you only want a part of a light display, or you want to capture a few fine details.
Shutter Speed: Start by manually setting your shutter speed to about 1/125 of a second, then you can adjust it up or down depending on the results. You can also adjust the shutter speed according to the brightness of the sky, and the brightness of the lights you are photographing.
Aperture Setting: If you are using a wide angle lens an aperture setting of around F5.6 or F8 should work, but don't be afraid to experiment.
To Flash or Not to Flash: When photographing Christmas lights, turn off the flash.
Stabilization: Keep your camera steady by either using a tripod, or bracing yourself against something nearby. This is a must.
ABOUT YOUR DALLAS, TX, PROFESSIONAL PHOTOGRAPHER:
Doug Davis has been producing professional, engaging videos and product, food, and lifestyle photography from his Dallas, TX, studio for more than 20 years. D-Squared Studios is located at 4312 Elm Street, Dallas, Texas, 75226. Contact our office at (214) 746-6336 or email Doug at doug.davis@d2studios.net.