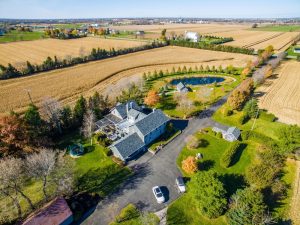 At this point, most everybody has probably seen a drone hovering somewhere above them, either at a park, a fair, a sporting event, etc. Drones are the in thing and they are here to stay. Drone photography can provide not only cool, unique, and creative photos, it can help you sell your property. Drones can cover a lot of area faster and easier than a person trudging around with camera equipment, and if you are selling a ranch, or acreage, a drone is the way to go.
Why Use Drones?
There are several reasons to use drone photography when selling land, including:
It's more than just a house: Aerial photography can convey far more than the condition or size of a house, or the breadth of the property. It can show off the best features of the neighborhood or general area. For instance, if there is a community pool, playground, tennis club, or golf course nearby, any one or all of those can be a huge selling point. Perhaps your selling a ranch with sunny, peaceful fields, and a sprinkling of grazing horses. That's a lifestyle, not just land. Drone photography can be used to convey information, emotion, a lifestyle, and to tell a story that can peak a person's deeper interest in your listing.
More information: Aerial photography can provide interesting tidbits of information such as how close the school or nearest town is. Whether or not there is public transportation and more.
Open up the market: Aerial photographs can play to many segments of the population all at the same time, opening up the market for you by appealing to a variety of buyers. For instance, a couple with school-aged kids may be interested in the school and sporting fields, nearby parks that are safe for their children to play, hiking and biking trails, and more. Seniors may be interested in the nearest grocery store, the library, or the community center. All this and more can be advertised via aerial drone photography.
Don't limit yourself. Fly!
ABOUT YOUR DALLAS

, TX,

PROFESSIONAL PHOTOGRAPHER

:
Doug Davis has been producing professional, engaging videos and product, food, and lifestyle photography from his Dallas, TX, studio for more than 20 years. D-Squared Studios is located at 4312 Elm Street, Dallas, Texas, 75226. Contact our office at (214) 746-6336 or email Doug at doug.davis@d2studios.net.