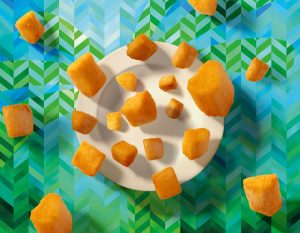 Powerful images are a valuable asset for any business that wants to show off its product or service. When it comes time to take photos for your website or social media, you want to ensure that you're getting the best quality possible. Of course, there's a set of general rules that will always serve you well when practicing photography, but food photography is an especially finicky realm. Food is a ticking time bomb — not that your food will explode if mishandled, but it has a short period of shootable shelf life. In order to get your food photography just right, here are 3 must-do's for your next shoot.
1. Use a Backlight When Shooting Food
Lighting makes all the difference when it comes to photography, and you can spend years perfecting the craft of good light. However, you don't need a ton of gear and an apprenticeship to execute quality lighting. Simple devices, like a backlight, add tons of production quality. A soft light source behind your food product adds depth that is so critical to quality food photography.
2. Speed Is Your Friend, So Work Quickly with Product
You should have a timetable already worked out before you start shooting. This will ensure your food product(s) aren't ready to go before you are. Give yourself time to set your shot and play with lighting before hot food comes to set, as most food loses its photogenic quality pretty quickly. Also, having multiples/backups of the food product you're shooting on hand is a good idea.
3. Dress Your Set Simply, and Colorfully
Unlike a high school theater production, putting together the set for your food photography shoot doesn't have to take weekend volunteer hours. A little goes a long way. Especially if the food item isn't the most appealing on its own, a touch of set dressing can help. Consider including raw ingredients in the background of the shot. These may add some color that is lost during the cooking process, and they will remind your audience of the food's wholesome nature.
Need Help With Your Food Photography Project?
Okay, so you can make it on your own if you have to, but enlisting the help of a professional is always the best way to get results. Doug Davis is a professional photographer in Dallas that has over 20 years of experience with all kinds of photography. Doug can help bring the best out of your food images and give your audience a picture that will make them salivate. To book Doug, contact D-Squared Studios in Dallas, TX at 214-746-6336.