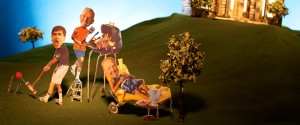 At D-Squared Studios, we take immense pride in the work we do at our Dallas commercial photography studio. We believe that when the right photographer connects with the right client to deliver the right message, the finished product is something that anyone would be proud of. Owner Doug Davis creates incredible images for products and companies as diverse and prestigious as Dell, Bachendorf's and Texas Instruments. It's safe to say he knows his stuff, so you can only imagine how much it pains him to hear these misguided statements.
"I know someone who just bought the most expensive camera on the market. Why should I even hire a real photographer?"
A fancy camera alone doth not a professional photographer make. Capturing the essence of your company, event, or products takes more than an impressive price tag—it takes a photographer! The equipment is important, of course, but one must also consider the need for expertise in these areas of design, aesthetics, posing, and lighting. As a non-professional, he probably won't have a portfolio. Before you place your photography project in the hands of an amateur, ask to view examples of his work. Think of it this way: If your friend just bought a state-of-the-art excimer laser, would you hire him to perform Lasik eye surgery on your eyes? Didn't think so.
"My sister's wedding photographer did a great job. I'm sure he can handle product photography just as easily."
Different settings and objectives require different skillsets, as very few techniques can be applied universally. Some photographers are born naturals who can go from shooting wedding receptions to shooting Rolex watches without batting an eye. Others? Not so much. Whereas a wedding photographer has limited control over the setting, a commercial photographer can usually manipulate the shot for maximum impact.
"My friend with the expensive camera? She says she'll do the shoot for free. I could really save a ton of money"
Could you save hundreds of dollars with a freebie photographer? Probably. Could you end up with second-rate images that couldn't be salvaged by hours of Photoshop? Absolutely. And while you won't have lost any of your investment, you've missed your deadline, angered your client, and must now repeat the arduous task of choosing the right photographer. If you want the best, you must invest.
About Doug Davis and D2 Studios: Doug's work has caught the eye of some of the most well-known companies in the world, not to mention the most innovative and successful local businesses. His portfolio of product, food, lifestyle, and event photography complements his successes as a videographer and creative director. To learn more about D2 Studios and its Dallas-based creative photography services, find us on Facebook or contact us at 214-776-6336.