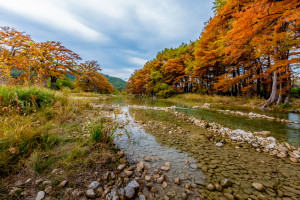 Fall in Texas may be a heck of a lot different than fall in Vermont, Maine, or Upstate New York, but Texas has its own unique beauty. Fall is a favorite time of year for many because the temperatures are cooler, and you get to enjoy the bright orange color of pumpkins, and the reds of the foliage. Fall is also a wonderful time because of Halloween, and the fact that this time of year symbolizes the onset of the Thanksgiving and Christmas Holidays. How, you may wonder, do professional photographers capture the allure and attractiveness of the season? Are there secrets to fall photography?

Tricks and Tips
Color: Of course the fall colors are what originally attract you to a scene this time of year, but making the colors secondary to the subject of the photograph can make the colors pop even more. Focusing on dark soil, waterfalls, or streams that are accented by fall color can make for a stunning photo.
Texture or patterns:  Photographs are flat, but the subject matter is not. Capture the texture or pattern in a photo. Fall lends itself to crispy leaves, fallen pine needles, peeling bark, complex images that can create depth and texture.
Aperature: Referring to the aforementioned texture, etc., isolating textured or patterned objects from what is around them by choosing a wider aperture (f/2.8, f/5.6) can create visual contrast. The background will appear softer (blurred) while the object will be sharper (in focus).
The camera lens: By choosing a lens with a longer focal length (at least 200mm) rather than a wide angle lens, professional photographers can capture intimate details of a fall scene. Another trick they use is to take artistic advantage of negative space to isolate certain subjects. A longer focal length lens can produce a simply stated, yet beautiful photograph.
ABOUT YOUR DALLAS, TX, PROFESSIONAL PHOTOGRAPHER:
Doug Davis has been producing professional, engaging videos and product, food, and lifestyle photography from his Dallas, TX, studio for more than 20 years. D-Squared Studios is located at 4312 Elm Street, Dallas, Texas, 75226. Contact our office at (214) 746-6336 or email Doug at doug.davis@d2studios.net.